Why advertise your law related jobs with eLawyer?
We are a specialised job portal in the legal sector.
Our regular website visitors include lawyers, legal secretaries and law students.
More than 20,000 monthly unique visitors and more than 450,000 hits per month.
More than 500 law firms and corporations have used our services.
More than 9,000 registered members.
* Above statistics are accurate as at 3rd quarter 2018.
Price List & Package Type
Job Advertisement Package
| Package Type | Fees | Job Posting Credit |
| --- | --- | --- |
| Single Pack | RM296.80 | 1 |
| Double Pack | RM551.20 | 2 (RM275.60 per credit) Saved RM42.40 |
| Triple Pack | RM731.40 | 3 (RM243.80 per credit) Saved RM459.00 |
| Hot Sale Pack | RM954.00 | 5 (RM190.80 per credit) Saved RM1,130 |
* Above price inclusive of 6% service tax.
There are two types of job advertisements you can consider for posting:
Credit used: 1.5 job posting credits per job advertisement.
Benefits: You can enhance your employer branding and gain higher visibility for your advertisement.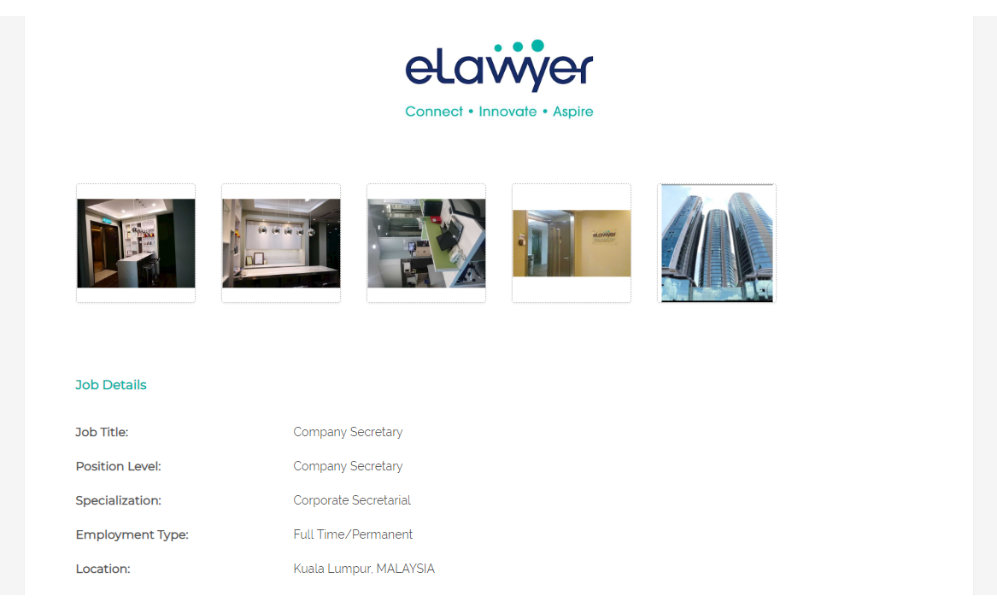 You can upload up to 5 images into the job advertisement.
Credit used: 1 job posting credit per job advertisement.
Terms of Applying eLawyer Job Advertisement Service
If you are interested in posting a job advertisement on our website, please note the following:
You can post your advertisement by using our Job Posting Credit. 1 Job Positing Credit is for 1 advertisement.
Every advertisement will be listed on our website for 2 months.
You can only advertise 1 position level type of job on 1 advertisement. E.g. Conveyancing Lawyer & Litigation Lawyer are both under the same position level of Legal Assistant / Associate, hence, can be advertised on 1 advertisement, if you wish. Pupil and Legal Assistant belongs to 2 different position level, hence, must be advertised on 2 different advertisements.
We will inform our network about your vacancy. Currently, we have more than 9,000 registered members, over 10,000 FB connections and up to 450,000 hit per month.
No time limit is imposed on the usage of any unused Job Posting Credit once purchased.
We reserve the right to amend the terms and conditions herein without prior notice.
Job Advertisement Process
Step 1: Registration

Register as Employer on our website (FREE).
Step 2: Activation

You will receive auto reply email to activate your account.
Step 3: Login

Login to your eLawyer account.
Step 4: Payment

Select the respective package and make payment:

Option 1: MOLpay online bank transfer / credit card.(Your credit will be allocated to you on the same day)

OR

Option 2: In the event payment is done through cheque, please bank in the relevant amount according to the below details:

Bank: Public Bank Bhd
Account Name: Agensi Pekerjaan ELS Sdn Bhd
Account No: 3147481600
SWIFT Code: PBB-E-MY-KL

After bank in to our bank account, please login and upload the bank-in-slip. We will manually review your bank-in-slip and will allocate the credit to your account on the same day or latest by the next business day. (Our office open from 9am to 6pm Monday to Friday except Public Holiday.)
Step 5: Advertisement

After receipt of your payment, we will allocate the relevant credit to your account (within the same or next business day) and notify you via email so that you can login to post your job advertisement immediately.
Please do not hesitate to contact us, if you have any questions on this service.